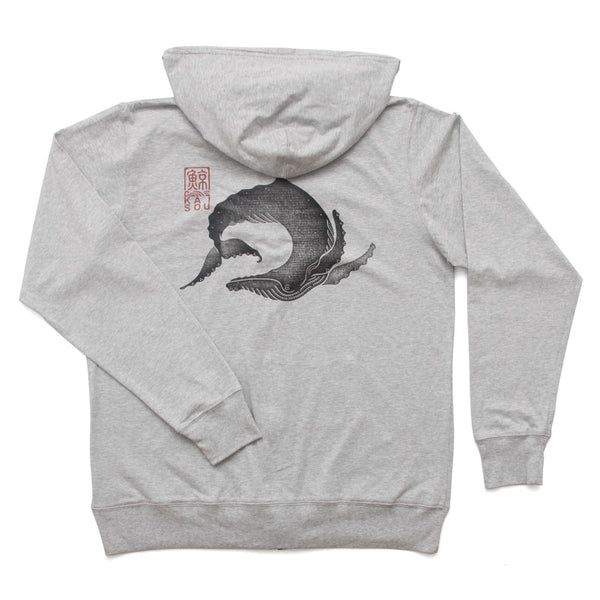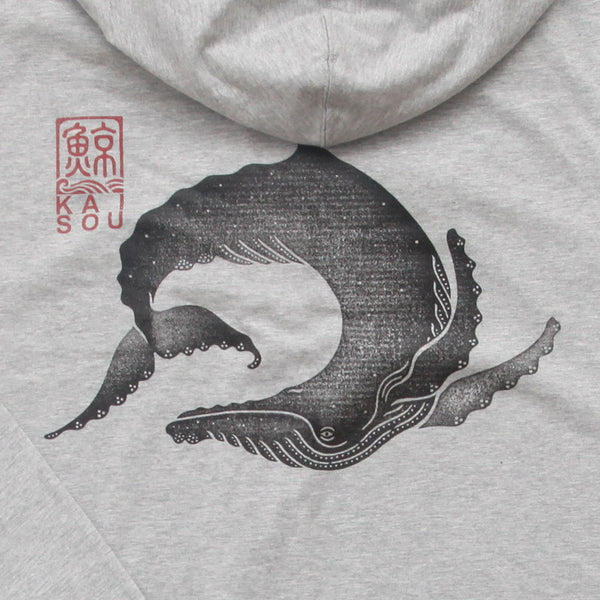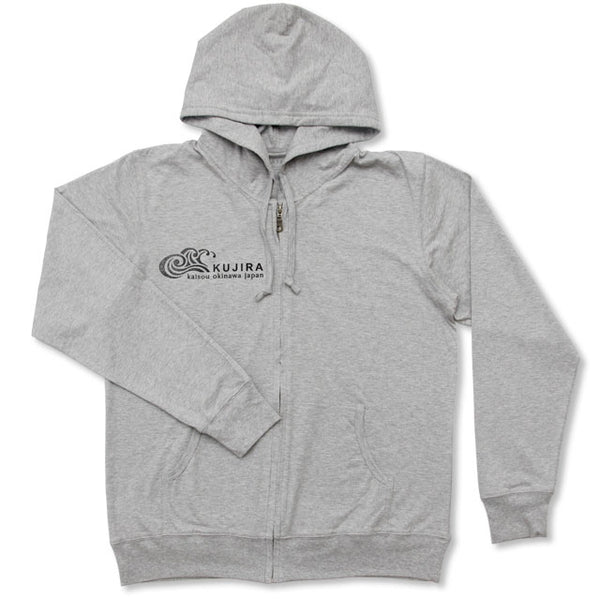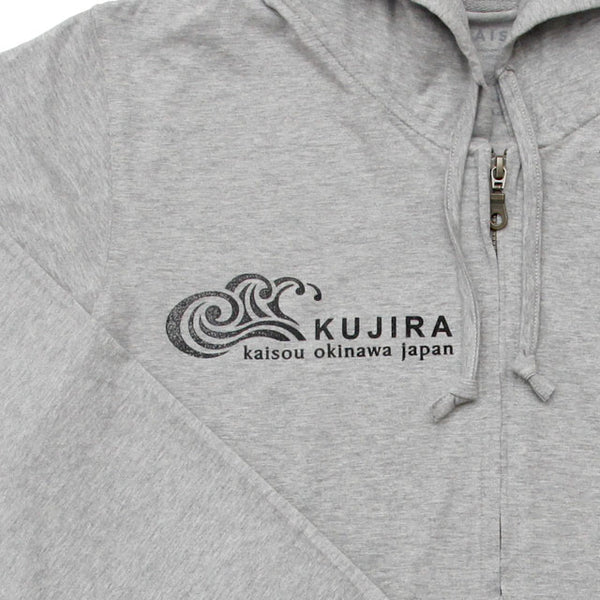 I made a thin hoodie of organic cotton. It's thin and nice to touch, so it's useful in various scenes, such as when it's summer and when it's a little chilly. Okinawa once had a bitter history of whaling whales, reducing the number to a critical extent. Fortunately, the population has gradually recovered, and the paradise of whales as it used to be is revived. For the future of whales, we want to regain the sea where they can live in peace.
| | |
| --- | --- |
| size: | S / M / L / XL |
| Material: | 100% organic cotton |
| Color | Melange gray |
|   |   |
Size chart (unit: cm)
| size | Width of a garment | Length | Sleeve Length |
| --- | --- | --- | --- |
| S | 46 | 64 | 60 |
| M | 49 | 67 | 62 |
| L | 52 | 70 | 62 |
| XL | 55 | 73 | 63 |
About Shipping Fees
Shipping Information
[Domestic Shipping Fees]
Standard nationwide flat rate: 520 yen.
Shipping fee will be shouldered by Kaisou for purchases exceeding 5,500 yen (including tax).
Bank transfer fees = customer's responsibility.
Cash on delivery fee = 265 yen (flat rate). Customer's responsibility.
[International Shipping Fees]
Asia: 1,500 yen
North and Central America: 3,900 yen
South America: 3,600 yen
Oceania: 3,200 yen
Europe: 3,200 yen
Africa: 3,600 yen
※Please note that international deliveries are currently experiencing delays due to the impact of the coronavirus. Depending on the region, it may take up to 2 months for delivery. We appreciate your understanding.
[Delivery Time]
For items in stock, we usually ship within 5 business days. Additionally, we aim to deliver your order in as soon as 3 days (excluding Sundays and holidays).
In case of out-of-stock items, we will ship after restocking, and we will inform you in advance via email.
Please note that there may be instances when we cannot deliver on the specified delivery date due to incomplete order information, large orders, transportation issues, natural disasters, or your absence, so please kindly understand in advance.
美海
数年前Tシャツ購入してデザインも良く、今回は乗り継ぎ時間の合間に立ち寄りました。
薄手のパーカーが気になり購入しましたが、シャツ同様に着心地も良く大満足です。
日焼け肌に優しいパーカーですね。
肌触り最高
生地の厚さも気に入ってます。
寒い時はインナーに着たりして、そのまま羽織っても良いし、1年中着れそう。購入して良かったです。
Excellent quality and lovely design
The material is thin and perfect for many situations. It is excellent quality and very durable (mine got trapped under a bicycle fender for about an hour, but it wasn't damaged at all when I pulled it out). The design is very beautiful. I liked this sweatshirt so much that after I lost mine I had another one shipped to me.
格好いいです,肌さわりも抜群
デザイン(鯨)に惹かれて購入しましたが,オーガニックコットンの肌触りに感動、何度洗っても堅くなったりゴワゴワしなくて柔らかく気持ちいいままです。夏でも、夕方少し涼しくなったときなどに羽織るのにとても重宝しています。駄目になったら、また同じ物を買いたいです!!(他のデザイン、海の生物の物があれば尚良いのですが・・・)
すごく気に入ってます。
最近オーガニックの服や食べ物を買うようにしていて、検索して見つけました。
お店のコンセプトが気に入って、ちょうど薄手パーカーがほしかのでこちらを購入。
クジラがすごくかわいくて買いましたが、着心地もとてもいいです。
クジラTシャツも検討中です。
沖縄にたずさわるほかの生き物のパーカーもあったら欲しいです。