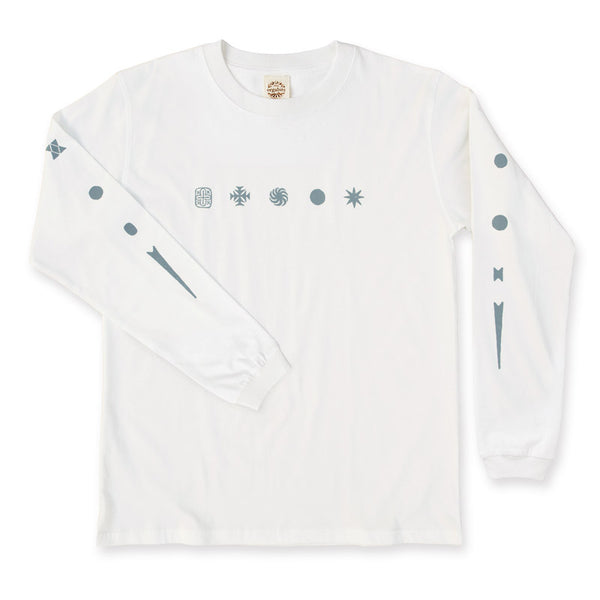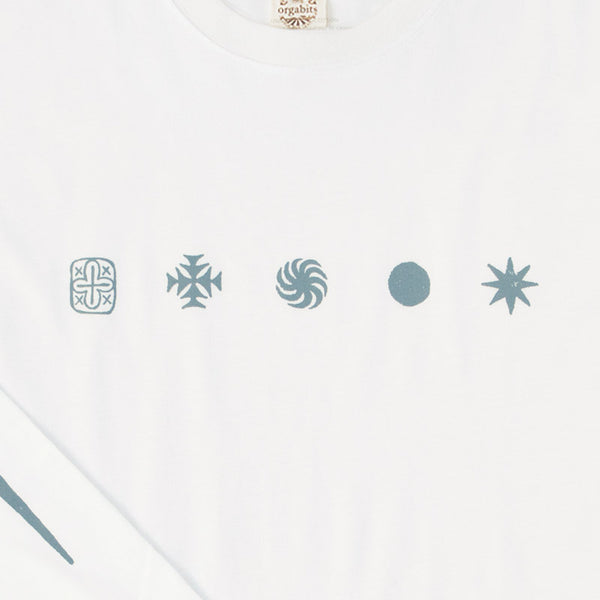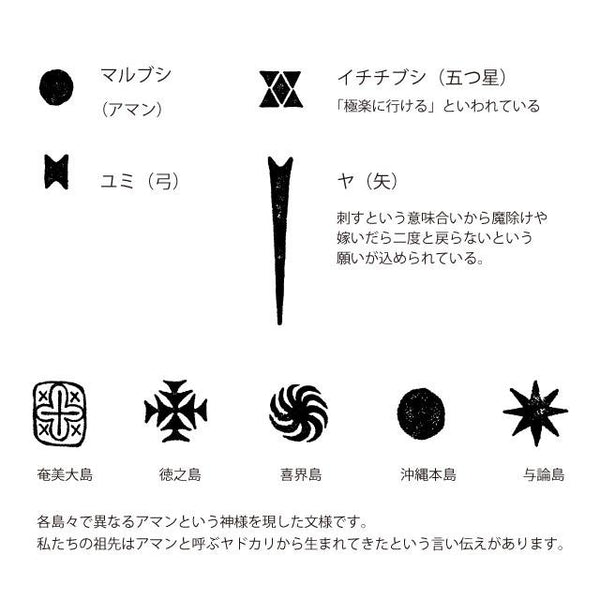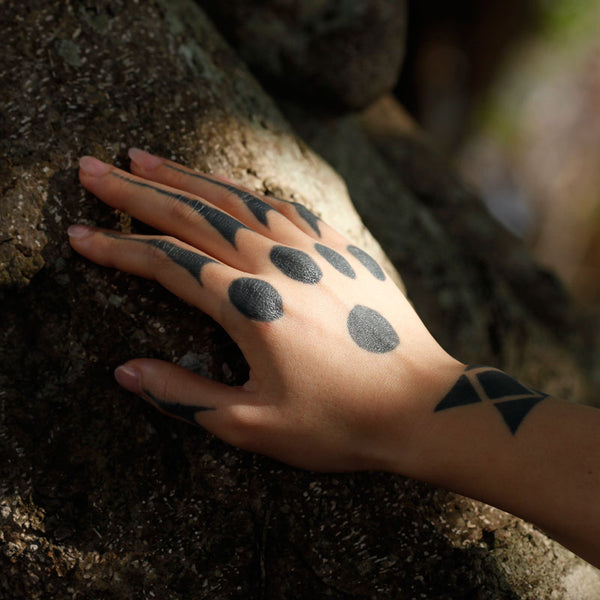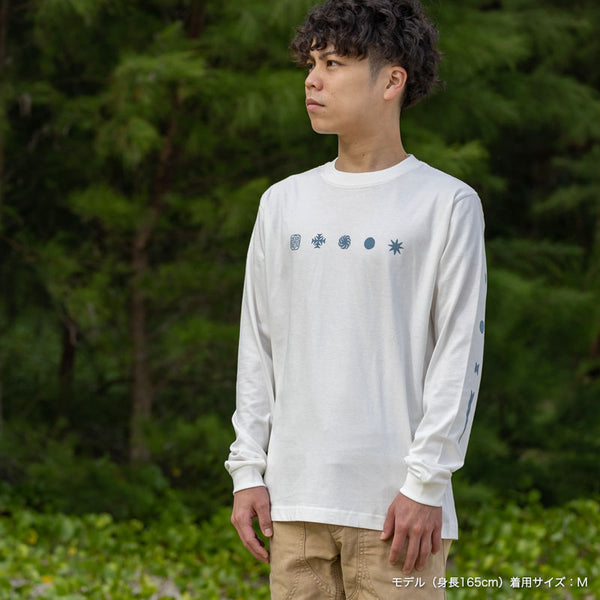 The custom "Hajichi" that once existed in the Ryukyu Islands. It is a tattoo of a woman who was performed from the Ryukyu Kingdom era to the early Showa era.
Each unique and attractive pattern has its own meaning, and the pattern form varies from region to region and island.
The origin of why Hajichi started is unknown, but for good luck and amulet, it is said to be a descendant when I met my ancestors in the afterlife as a rite of passage.
Now, I tried to bring back Hajichi's design with T-shirts.
 

| | |
| --- | --- |
| Material: | 100% organic cotton |
| Color: | white |
|   |   |
Size chart (unit: cm)
| size | Width of a garment | Height | Sleeve Length |
| --- | --- | --- | --- |
| S | 46 | 63 | 52 |
| M | 50 | 66 | 55 |
| L | 54 | 70 | 58 |
| XL | 56 | 74 | 61 |

[100% organic cotton T-shirt]
Kaisou's organic cotton T-shirt uses 100% cotton grown by organic farming without using any pesticides or chemicals, and does not use pesticides or chemicals in all processes such as dyeing, spinning and sewing. not here.
Organic cotton will tell you the original comfort of cotton. Although natural fertilizers and pesticide-pickled cotton lose their natural oil content, organic cotton is rich in natural oil content, and each fiber has elasticity.
And more and more pesticides are used in the cultivation of cotton, which not only harms the health of the people involved in the production, but also pollutes the earth and the sea and affects many living things.
As I put on my sleeves every day, I want to pursue responsible choice and comfort. This is the reason why all T-shirts made by Kaisou have been switched to organic cotton.

[Notes on handling]
-Due to the characteristics of the organic cotton material, shrinkage due to washing will occur compared to ordinary cotton products. (Shrinks about 1 cm vertically and horizontally.)
・ When using a washing machine, we recommend using a laundry net to prevent it from losing its shape.
-Due to the characteristics of the material, the product may skew due to wear or handling. It will recover to some extent if you lightly iron it after adjusting the shape.
About Shipping Fees
Shipping Information
[Domestic Shipping Fees]
Standard nationwide flat rate: 520 yen.
Shipping fee will be shouldered by Kaisou for purchases exceeding 5,500 yen (including tax).
Bank transfer fees = customer's responsibility.
Cash on delivery fee = 265 yen (flat rate). Customer's responsibility.
[International Shipping Fees]
Asia: 1,500 yen
North and Central America: 3,900 yen
South America: 3,600 yen
Oceania: 3,200 yen
Europe: 3,200 yen
Africa: 3,600 yen
※Please note that international deliveries are currently experiencing delays due to the impact of the coronavirus. Depending on the region, it may take up to 2 months for delivery. We appreciate your understanding.
[Delivery Time]
For items in stock, we usually ship within 5 business days. Additionally, we aim to deliver your order in as soon as 3 days (excluding Sundays and holidays).
In case of out-of-stock items, we will ship after restocking, and we will inform you in advance via email.
Please note that there may be instances when we cannot deliver on the specified delivery date due to incomplete order information, large orders, transportation issues, natural disasters, or your absence, so please kindly understand in advance.
ハジチデザイン
海想さんの生地が好きで購入しました。着心地バツグンで、デザインも着やすいですしサイズも丁度良いです
生地が厚すぎで着心地も良くないです!綿100%を感じないですし残念です…