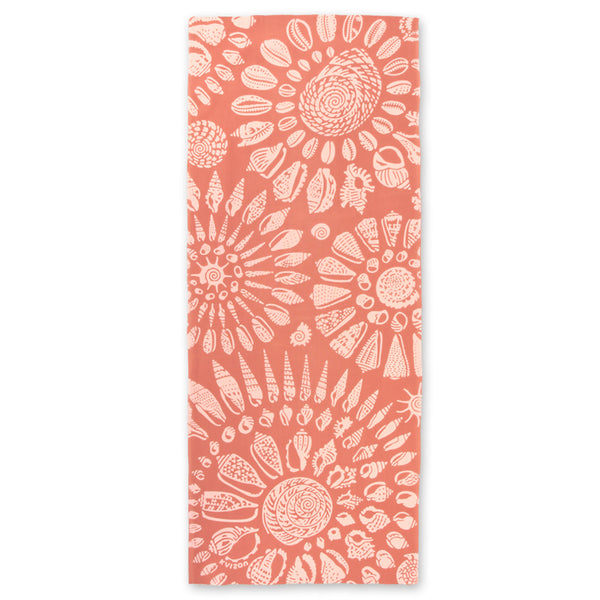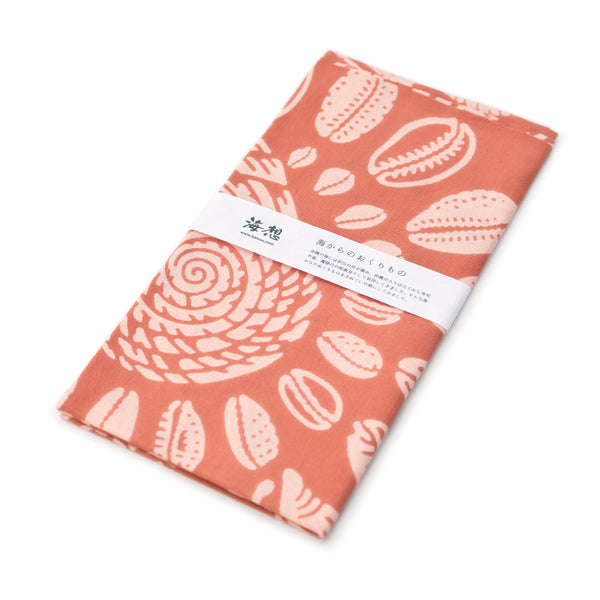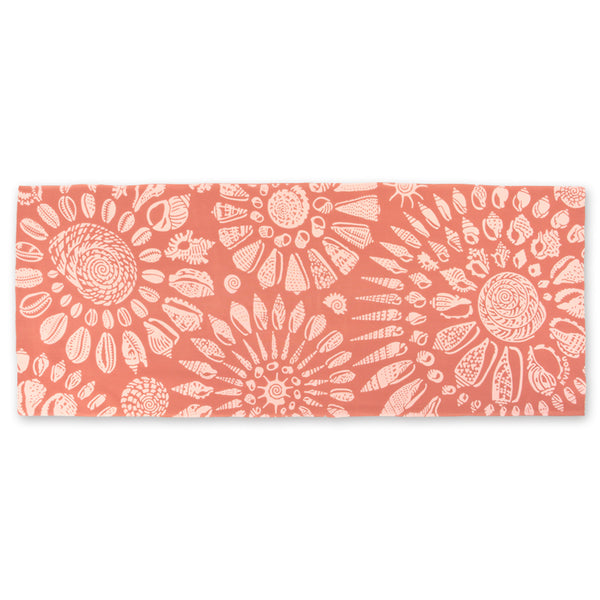 Many shellfish live in the sea of ​​Okinawa, and people of Okinawa have used it as food, vessels, and magical items for amulets since ancient times.
In the modern era, Takara Guy was exported to China as a material for shell coins, Mussel was used as a material for Raden lacquerware, and Takasegai as a raw material for buttons. I made a gift from the sea into a hand towel pattern.
 [Chusen]
 It is made by hand using the traditional method of casting. Cast dyeing is a pattern dyeing method in which a dye is poured into a fabric that has been dye-proofed with a special glue, and only the pattern part is dyed as needed. Unlike prints, which have a color on only one side, dyeing dyes the thread itself, so the main feature is that there is no front or back side. A craftsman takes time and effort to dye it by hand. That's why the finish is different. There are shades, softness of dyes, and bleeding that cannot be printed. The taste of handwork is different one by one. And please enjoy the softness you get used to.
| | |
| --- | --- |
| size: | 36 cm x 90 cm |
| Material: | 100% cotton Tokuoka |
|   | made in Japan |
About Shipping Fees
Shipping Information
[Domestic Shipping Fees]
Standard nationwide flat rate: 520 yen.
Shipping fee will be shouldered by Kaisou for purchases exceeding 5,500 yen (including tax).
Bank transfer fees = customer's responsibility.
Cash on delivery fee = 265 yen (flat rate). Customer's responsibility.
[International Shipping Fees]
Asia: 1,500 yen
North and Central America: 3,900 yen
South America: 3,600 yen
Oceania: 3,200 yen
Europe: 3,200 yen
Africa: 3,600 yen
※Please note that international deliveries are currently experiencing delays due to the impact of the coronavirus. Depending on the region, it may take up to 2 months for delivery. We appreciate your understanding.
[Delivery Time]
For items in stock, we usually ship within 5 business days. Additionally, we aim to deliver your order in as soon as 3 days (excluding Sundays and holidays).
In case of out-of-stock items, we will ship after restocking, and we will inform you in advance via email.
Please note that there may be instances when we cannot deliver on the specified delivery date due to incomplete order information, large orders, transportation issues, natural disasters, or your absence, so please kindly understand in advance.