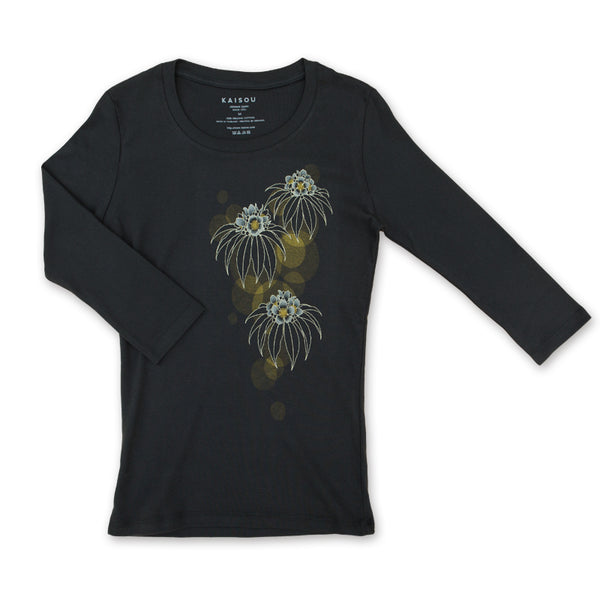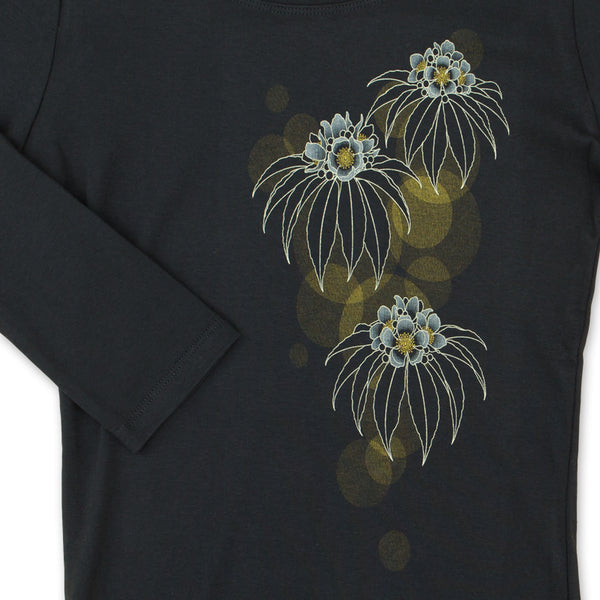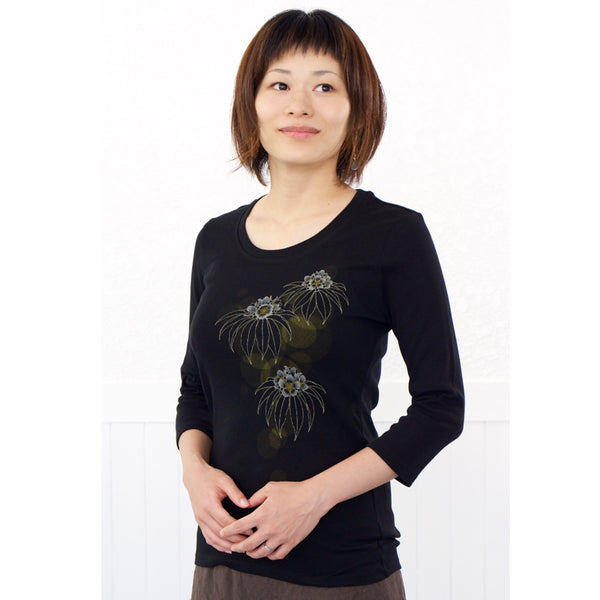 Ige is a teribatree belonging to the Camelna family, and is a flower representing Yanbaru. At the time of the rainy season, the forest of Yanbaru has white petals and a neat and clean yellow shibe, and it also has a faint aroma. "Ishu tree flowers and ankyora bloom yuri unai ishu and totai pure white(iura) bloom kana" (Iju flowers are blooming so beautifully, I want to bloom in white like that Iju) and The Ryukyu sing, it has been loved by Okinawans for a long time.



[100% Organic Cotton T-shirt]
The organic cotton T-shirt uses 100% cotton grown in organic farming without pesticides or chemicals, and does not use any pesticides or chemicals in all processes such as dyeing, spinning, or sewing.
> Commitment to Organic Cotton
【Precautions for handling】
Due to the characteristics of the material, shrinkage by washing may occur from general cotton products.
When using a washing machine, it is recommended to use a laundry net to prevent the shape of the wash.
| | |
| --- | --- |
| Size: | M / L |
| Material: | 100% organic cotton |
| Color: | Black |
About Shipping Fees
Shipping Information
[Domestic Shipping Fees]
Standard nationwide flat rate: 520 yen.
Shipping fee will be shouldered by Kaisou for purchases exceeding 5,500 yen (including tax).
Bank transfer fees = customer's responsibility.
Cash on delivery fee = 265 yen (flat rate). Customer's responsibility.
[International Shipping Fees]
Asia: 1,500 yen
North and Central America: 3,900 yen
South America: 3,600 yen
Oceania: 3,200 yen
Europe: 3,200 yen
Africa: 3,600 yen
※Please note that international deliveries are currently experiencing delays due to the impact of the coronavirus. Depending on the region, it may take up to 2 months for delivery. We appreciate your understanding.
[Delivery Time]
For items in stock, we usually ship within 5 business days. Additionally, we aim to deliver your order in as soon as 3 days (excluding Sundays and holidays).
In case of out-of-stock items, we will ship after restocking, and we will inform you in advance via email.
Please note that there may be instances when we cannot deliver on the specified delivery date due to incomplete order information, large orders, transportation issues, natural disasters, or your absence, so please kindly understand in advance.