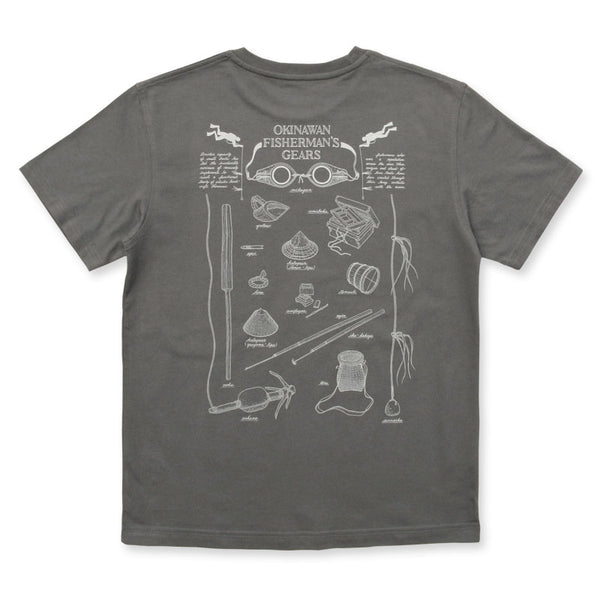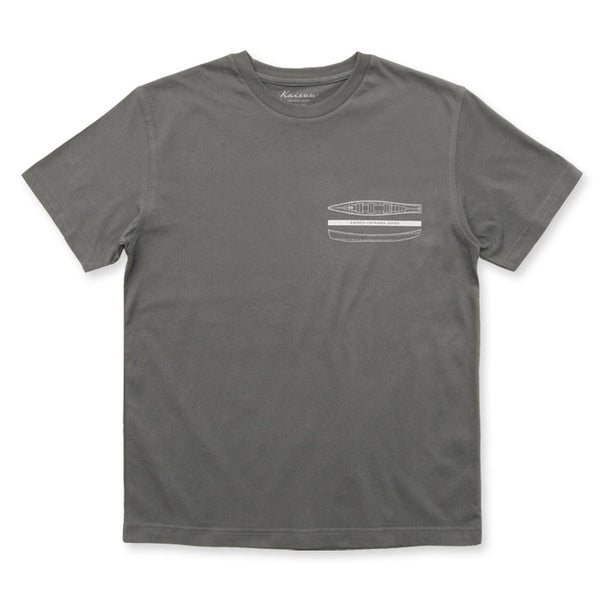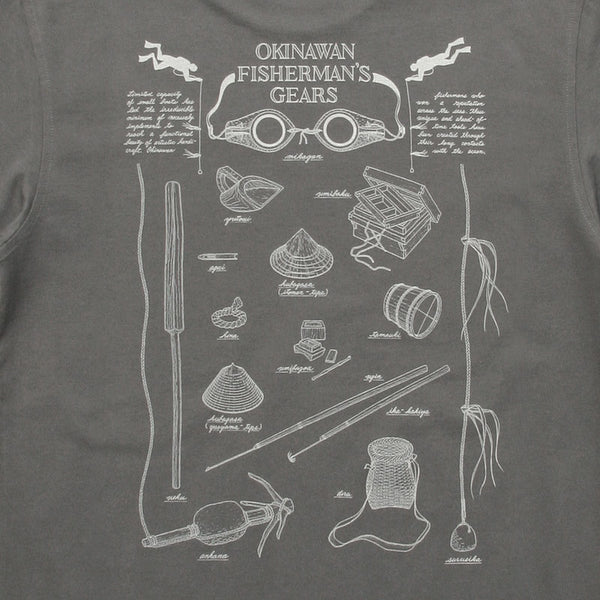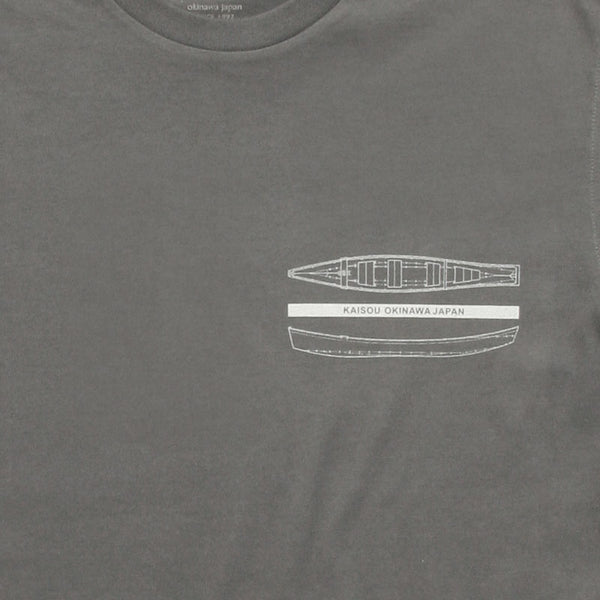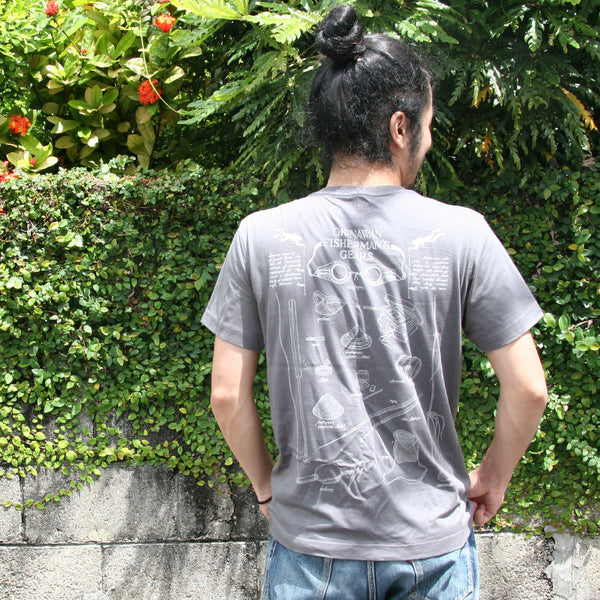 Fishers of Okinawa known as the superior maritime people brought about the small tools of the sea full of the originality in sequence at the start in ミーカガン (water glasses). The tool to divide life and death into was polished in the long history and was completed so as to be able to call it with the industrial art object which rose in a beautility.
However, the fisher who unfortunately conveys such a technique with the change of the times; is going to disappear.
| | |
| --- | --- |
| Size: | S / M / L / XL / XXL |
| Material: | 100% of organic cotton |
| A color: | Charcoal |
Size list (a unit:) cm)
| Size | Width of the body | Dress length | Length of a kimono sleeve |
| --- | --- | --- | --- |
| XS | 43 | 60 | 17 |
| S | 46 | 63 | 18 |
| M | 49 | 66 | 19 |
| L | 52 | 70 | 20 |
| XL | 54 | 74 | 22 |
| XXL | 58 | 78 | 24 |

[100% organic cotton T-shirt]
The organic cotton T-shirt of 海想 uses 100% of cotton cultivated by an organic farming without using a pesticide and chemicals entirely and does not use a pesticide and chemicals in all steps such as dyeing, spinning, the sewing at all.
The organic cotton can teach cotton original comfort. The cotton which is soaked in artificial manure and a pesticide originally loses the natural oil which raw cotton has, but the organic cotton is included in the natural oil abundantly and is flexible to each one of the fiber.
And not only pesticides more than which crops are used for cultivation of the cotton and undermine the health of people engaging in production, but also pollute the earth and the sea and affect many creatures.
Responsibility wants to pursue choice and the comfort that there is every day because it is a thing through the sleeve. The T-shirt which 海想 makes is the reason that shifted all to organic cotton.

[attention in the handling]
・In a characteristic of the material of the organic cotton, a shrinkage by the washing occurs than a general cotton product. (I shrink approximately approximately 1cm in top and bottom right and left.)
・I recommend the use of the washing net to prevent a form break when I use a washing machine.
・In a characteristic of the material, a product may do a bias line by wearing and the handling. I recover to some extent when I have you wear an iron lightly after fixing the form.
About Shipping Fees
Shipping Information
[Domestic Shipping Fees]
Standard nationwide flat rate: 520 yen.
Shipping fee will be shouldered by Kaisou for purchases exceeding 5,500 yen (including tax).
Bank transfer fees = customer's responsibility.
Cash on delivery fee = 265 yen (flat rate). Customer's responsibility.
[International Shipping Fees]
Asia: 1,500 yen
North and Central America: 3,900 yen
South America: 3,600 yen
Oceania: 3,200 yen
Europe: 3,200 yen
Africa: 3,600 yen
※Please note that international deliveries are currently experiencing delays due to the impact of the coronavirus. Depending on the region, it may take up to 2 months for delivery. We appreciate your understanding.
[Delivery Time]
For items in stock, we usually ship within 5 business days. Additionally, we aim to deliver your order in as soon as 3 days (excluding Sundays and holidays).
In case of out-of-stock items, we will ship after restocking, and we will inform you in advance via email.
Please note that there may be instances when we cannot deliver on the specified delivery date due to incomplete order information, large orders, transportation issues, natural disasters, or your absence, so please kindly understand in advance.
旦那にプレゼント
日頃からお世話になっている旦那にプレゼントと思い購入しました。肌ざわりといい、生地の厚み(厚からず薄からず)といい、夏にヘビーローテーションするのにもってこいのTシャツです。今まで着たことのない色だったのと、バックプリントのデザインの良さに、旦那もすっかり気に入ってくれています。
旦那にプレゼント。着心地が良く、数あるTシャツの中で手に取ってしまうみたいです。
肌触りが心地良い
すごく‼️着心地がいいよ。
ダイバー🤿フィッシャーマン🎣にはサイコーです
バックプリントかわいい
デザインが気に入りました。
旦那さん用に購入しましたが、気に入ってくれました。
色も良いですね!