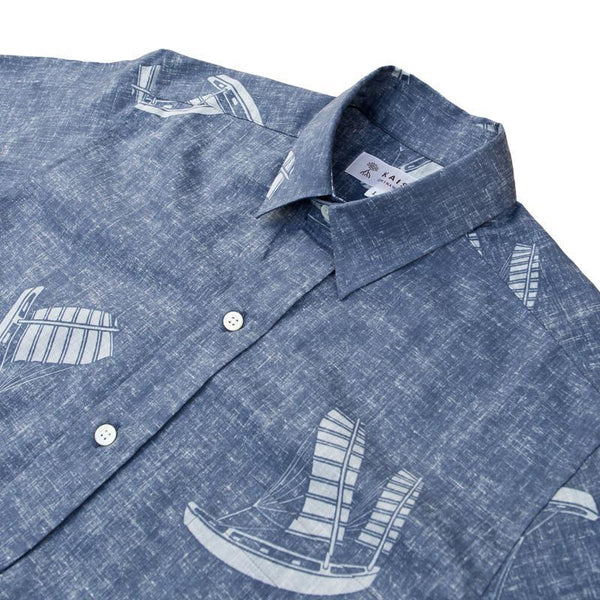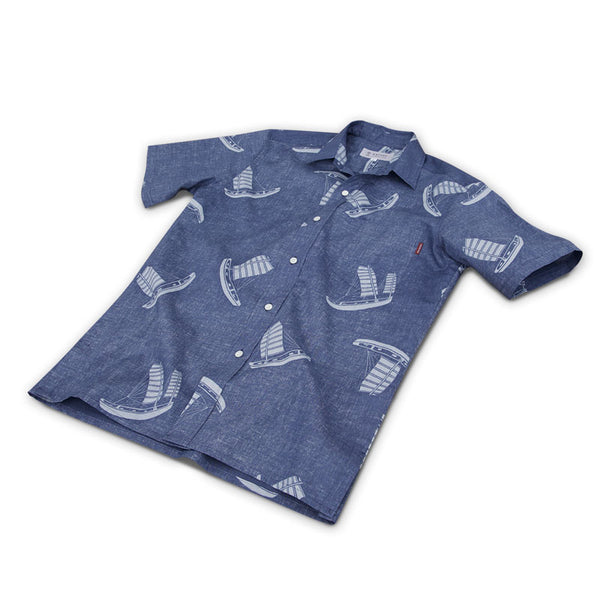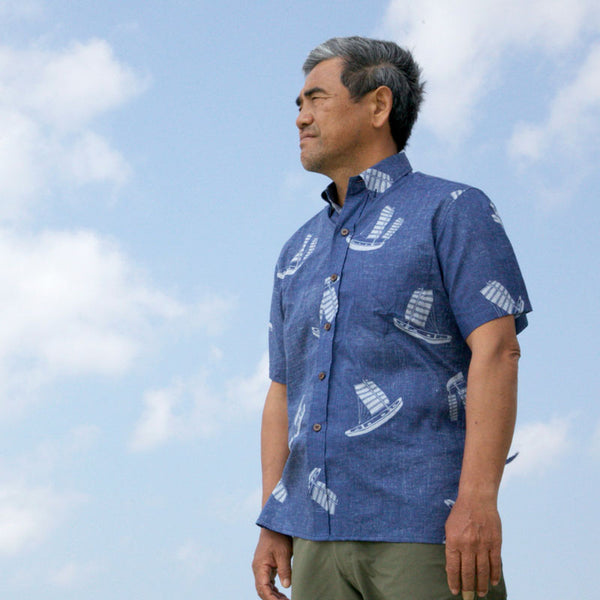 Okinawa's traditional wooden boat "Sailing Savani," which can be said to be a symbol of outstanding marine culture that has been passed down since the Ryukyu Dynasty.
Raise the sails, catch the wind, row occasionally, and run as if you were gliding along the sea in harmony with nature. Savani's excellent ability is being reviewed again even in the modern times of civilization.
| | |
| --- | --- |
| size: | M / L / LL / 3L |
| Material: | 85% cotton 15% hemp |
| Color: | Navy / Ivory |
Size chart (unit: cm)

| size | Width of a garment | Height | Shoulder width |
| --- | --- | --- | --- |
| M | 49 | 69 | 44 |
| L | 53 | 72 | 47 |
| LL | 57 | 75 | 50 |
| 3L | 61 | 78 | 53 |
 [About original shirts]
The hemp + cotton fabric that is cool and comfortable to wear keeps you feeling cool without sticking.
 For sewing, we have adopted the time-consuming sewing called "rolled down lock stitch". It is a sewing method that is synonymous with high-class shirts because it is not only aesthetically pleasing but also durable. The body line realizes a refreshing line unique to Kaishin based on the original measurement. Buttons made of natural textured Takase shellfish. It is an original shirt that is carefully produced with a focus on everywhere.
 It is sewn by Japanese craftsmen and by skilled craftsmen in Okinawa.
About Shipping Fees
Shipping Information
[Domestic Shipping Fees]
Standard nationwide flat rate: 520 yen.
Shipping fee will be shouldered by Kaisou for purchases exceeding 5,500 yen (including tax).
Bank transfer fees = customer's responsibility.
Cash on delivery fee = 265 yen (flat rate). Customer's responsibility.
[International Shipping Fees]
Asia: 1,500 yen
North and Central America: 3,900 yen
South America: 3,600 yen
Oceania: 3,200 yen
Europe: 3,200 yen
Africa: 3,600 yen
※Please note that international deliveries are currently experiencing delays due to the impact of the coronavirus. Depending on the region, it may take up to 2 months for delivery. We appreciate your understanding.
[Delivery Time]
For items in stock, we usually ship within 5 business days. Additionally, we aim to deliver your order in as soon as 3 days (excluding Sundays and holidays).
In case of out-of-stock items, we will ship after restocking, and we will inform you in advance via email.
Please note that there may be instances when we cannot deliver on the specified delivery date due to incomplete order information, large orders, transportation issues, natural disasters, or your absence, so please kindly understand in advance.
丁寧な縫製
古希のお祝いに求めましたが、インディゴのようなトーンが肌によくうつり、若々しく見えます。
盛夏の集まりにも、きちんと見え、安心して出席できるようです。
着心地良くスッキリ
着心地良くスッキリしたラインです。
店頭にはなかったのでオンラインで見つけてラッキーでした。
爽やかな着心地
沖縄旅行の際に購入した海想さんのTシャツをヘビロテしている60代の父へプレゼント用に購入しました。サラッとした着心地でデザインも落ち着いていてとても気に入ってくれました。