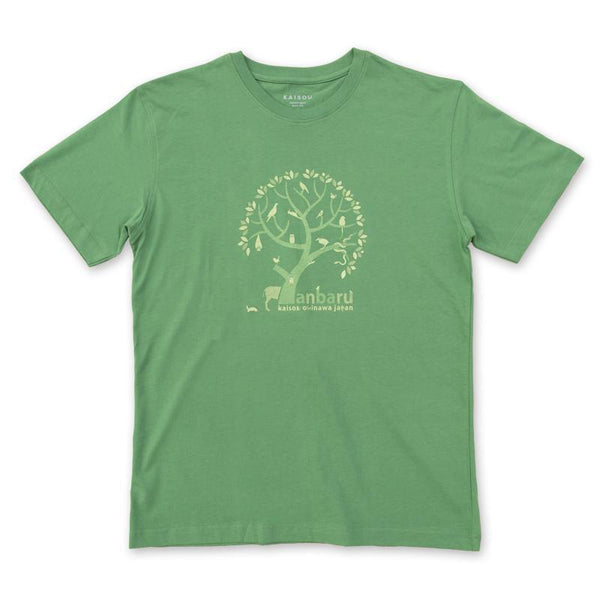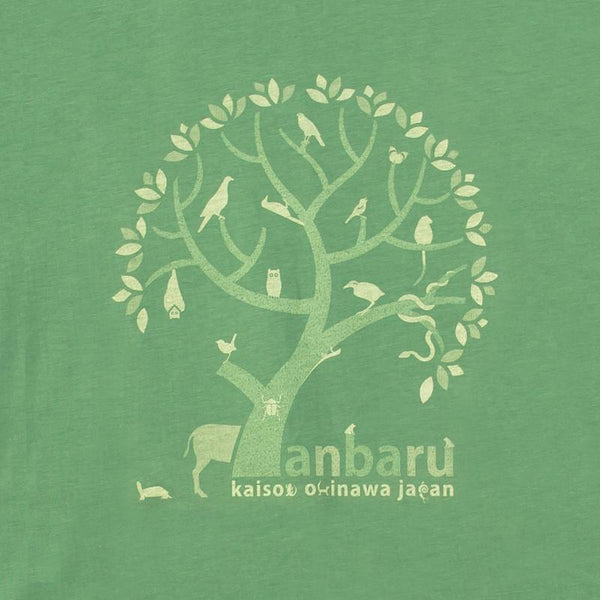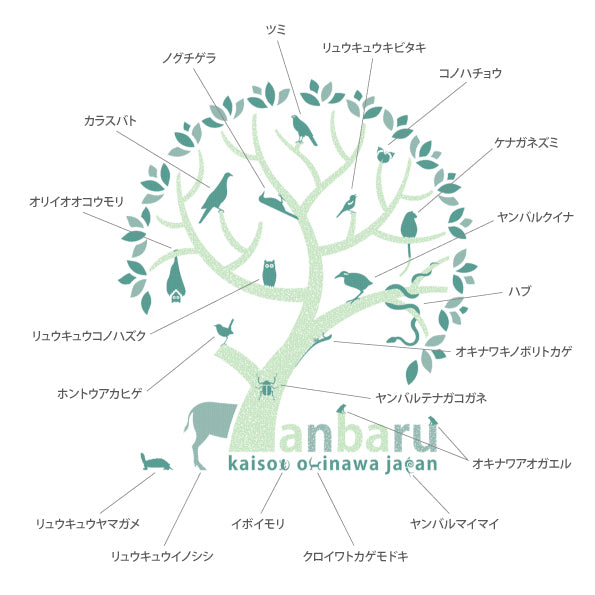 The area in the northern part of Okinawa Island where abundant subtropical forests continue is called "Yanbaru". Naka Ryukyu, which has Okinawa Island in the Ryukyu arc, was a treasure trove of endemic species that evolved independently since it was separated from the continent about two million years ago, but now its habitat is narrowed due to the influence of development and so on. There are many living creatures that live only in. We have gathered together the creatures that grow in the Yanbaru Forest.
| | |
| --- | --- |
| Material: | 100% organic cotton |
| Color: | Mint green |
Size chart (unit: cm)
| size | Width of a garment | Height | Sleeve Length |
| --- | --- | --- | --- |
| XS | 43 | 60 | 17 |
| S | 46 | 63 | 18 |
| M | 49 | 66 | 19 |
| L | 52 | 70 | 20 |
| XL | 54 | 74 | 22 |

[100% organic cotton T-shirt]
Kaisou's organic cotton T-shirt uses 100% cotton grown by organic farming without using any pesticides or chemicals, and does not use pesticides or chemicals in all processes such as dyeing, spinning and sewing. not here.
Organic cotton will tell you the original comfort of cotton. Although natural fertilizers and pesticide-pickled cotton lose their natural oil content, organic cotton is rich in natural oil content, and each fiber has elasticity.
And more and more pesticides are used in the cultivation of cotton, which not only harms the health of the people involved in the production, but also pollutes the earth and the sea and affects many living things.
As I put on my sleeves every day, I want to pursue responsible choice and comfort. This is the reason why all T-shirts made by Kaisou have been switched to organic cotton.

[Notes on handling]
-Due to the characteristics of the organic cotton material, shrinkage due to washing will occur compared to ordinary cotton products. (Shrinks about 1 cm vertically and horizontally.)
・ When using a washing machine, we recommend using a laundry net to prevent it from losing its shape.
-Due to the characteristics of the material, the product may skew due to wear or handling. It will recover to some extent if you lightly iron it after adjusting the shape.
送料について
【国内 配送料金】
通常全国一律 520円
5,500円(税込)以上お買い上げの場合は、弊社が負担いたします。

・振り込み手数料=お客様負担
・代金引換手数料=265円(一律)お客様負担
【海外 配送料金】
| | |
| --- | --- |
| アジア | 1,500円 |
| 北中米 | 3,900円 |
| 南米  | 3,600円 |
| オセアニア | 3,200円 |
| ヨーロッパ | 3,200円 |
| アフリカ | 3,600円 |
 
※海外へのお届けは現在、新型コロナウィルスの影響により発送遅延が発生しております。地域によっては2ヶ月ほどかかることもございます。
ご了承くださいませ。

【お届けにかかる時間】
お届けには、在庫のあるものは、通常5営業日以内に発送しております。 又、商品到着までに最短で3日(日曜祝日を除く)を予定しております。
・欠品などの場合は入荷後の発送となりますので、その際にはあらかじめメールなどでご連絡差し上げます。
 ご注文内容に不備のある場合、大口のご注文の場合、交通事情・自然災害の場合、お客様がご不在の場合などには、
所定のお届け日にお届けできない場合がございますので、あらかじめご了承ください。
南国の薫り
手にしたとたん肌触りが良くしっとりで色も身近にはない南国的な色合いで一目でお気に入りになりました。
肌ざわりが良い
オーガニックコットンのTシャツを探して、こちらのサイトを知りました。
商品が届いて手に取った時、あれ? 何か違う・・と、手触りの良さを感じました。
柄違いでMとLサイズを注文。163cm中肉で、Mサイズはぴったり。Lは決して大き過ぎず、ゆったりした感じ。私の好みとしてはLサイズが良いと思いました。
とても質が良い商品だったので、夫にもXLサイズを注文。首が太いので首回りの開きが狭いのは嫌いますが、これは大丈夫だったので安心しました。
これからもっと柄やカラーが増えることを期待しています。
とにかく色がキレイ。
着心地も良いが、とにかく色がキレイ!なんとも言えないグリーンで、日本の色の名前で言うと何て言うのかな?と思う中間色っぽい感じ。キツくない色に癒されます。家族も、色がきれいだから海想さんの服はイイよね!と喜んでいます。デザインも "生き物はみんな仲間" "木や自然に皆な生かされている"と、謙虚な気持ちに戻れるような平和でほっこりする絵。よく見ると見つける小さなカエル?が可愛い。
着心地最高
海想のTシャツは本当に質が良いです!生地にもある程度厚みがあって、首回りもしっかりしています。繰り返し洗濯をしても全然へこたれないです。
そして何より着心地が良い!!!今までデザイン違いで10枚以上は買っています。これからも追加買いしていきます。