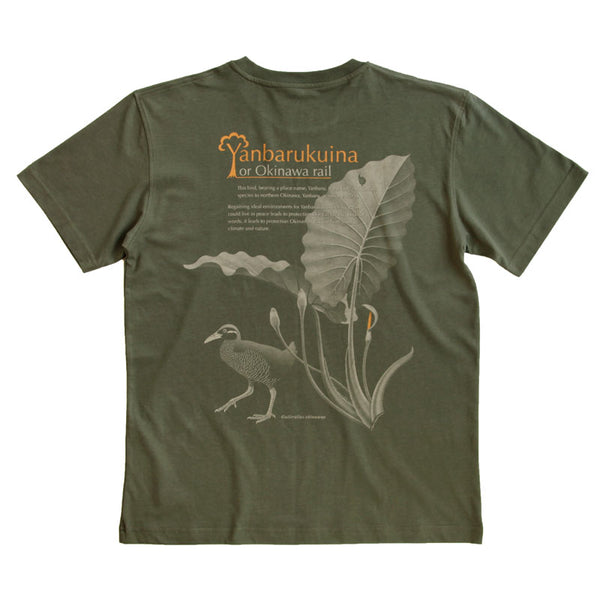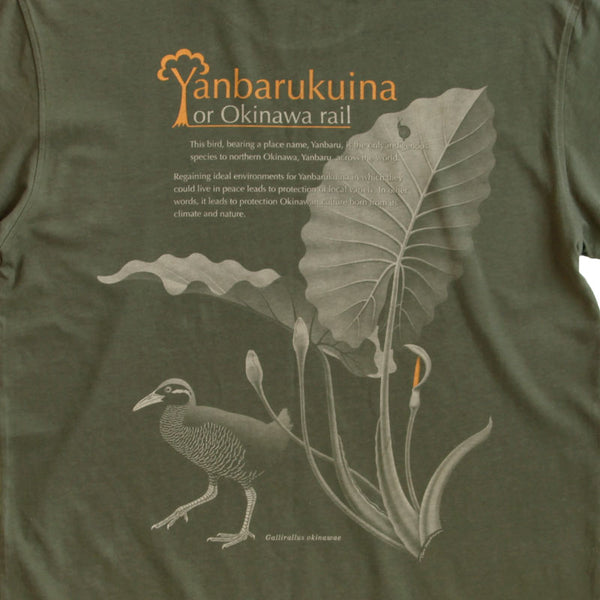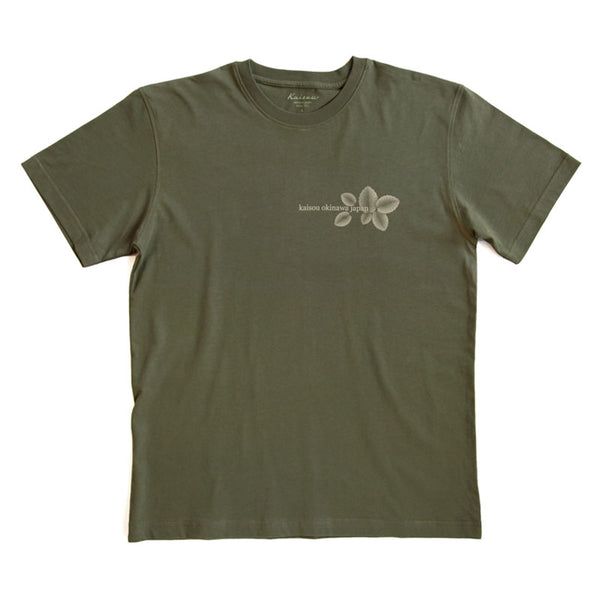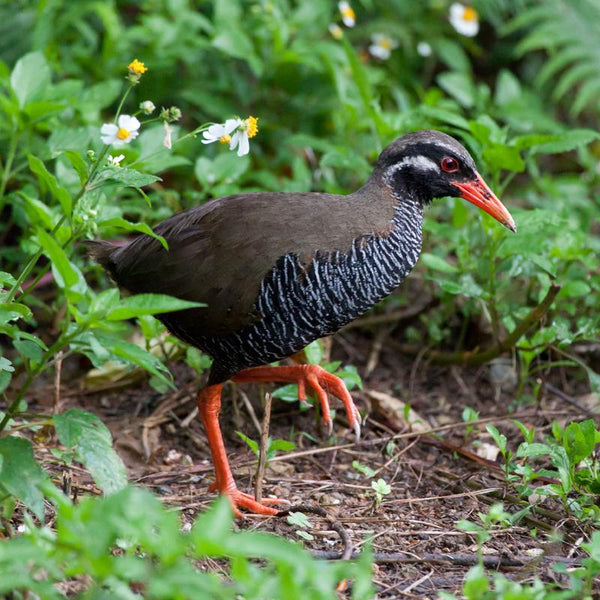 This bird that the name gets the place name of Jan Baru is an endemic species to inhabit only the northern part of Okinawa Island in the world. The Okinawa rail has a predation by human mongoose and ノネコ which I brought in for a crisis of the extinction for human activities now again. It protect the local variety to regain the environment where an Okinawa rail can live in in peace. In other words I am connected in following "culture of Okinawa" born from climate and nature of Okinawa.
Blog Nago, natural observation diary of the associated 海想 staff

| | |
| --- | --- |
| Material: | 100% of organic cotton |
| A color: | Forest green |
Size list (a unit:) cm)
| Size | Width of the body | Dress length | Length of a kimono sleeve |
| --- | --- | --- | --- |
| XS | 43 | 60 | 17 |
| S | 46 | 63 | 18 |
| M | 49 | 66 | 19 |
| L | 52 | 70 | 20 |
| XL | 54 | 74 | 22 |

[100% organic cotton T-shirt]
The organic cotton T-shirt of 海想 uses 100% of cotton cultivated by an organic farming without using a pesticide and chemicals entirely and does not use a pesticide and chemicals in all steps such as dyeing, spinning, the sewing at all.
The organic cotton can teach cotton original comfort. The cotton which is soaked in artificial manure and a pesticide originally loses the natural oil which raw cotton has, but the organic cotton is included in the natural oil abundantly and is flexible to each one of the fiber.
And not only pesticides more than which crops are used for cultivation of the cotton and undermine the health of people engaging in production, but also pollute the earth and the sea and affect many creatures.
Responsibility wants to pursue choice and the comfort that there is every day because it is a thing through the sleeve. The T-shirt which 海想 makes is the reason that shifted all to organic cotton.

[attention in the handling]
・In a characteristic of the material of the organic cotton, a shrinkage by the washing occurs than a general cotton product. (I shrink approximately approximately 1cm in top and bottom right and left.)
・I recommend the use of the washing net to prevent a form break when I use a washing machine.
・In a characteristic of the material, a product may do a bias line by wearing and the handling. I recover to some extent when I have you wear an iron lightly after fixing the form.
About Shipping Fees
Shipping Information
[Domestic Shipping Fees]
Standard nationwide flat rate: 520 yen.
Shipping fee will be shouldered by Kaisou for purchases exceeding 5,500 yen (including tax).
Bank transfer fees = customer's responsibility.
Cash on delivery fee = 265 yen (flat rate). Customer's responsibility.
[International Shipping Fees]
Asia: 1,500 yen
North and Central America: 3,900 yen
South America: 3,600 yen
Oceania: 3,200 yen
Europe: 3,200 yen
Africa: 3,600 yen
※Please note that international deliveries are currently experiencing delays due to the impact of the coronavirus. Depending on the region, it may take up to 2 months for delivery. We appreciate your understanding.
[Delivery Time]
For items in stock, we usually ship within 5 business days. Additionally, we aim to deliver your order in as soon as 3 days (excluding Sundays and holidays).
In case of out-of-stock items, we will ship after restocking, and we will inform you in advance via email.
Please note that there may be instances when we cannot deliver on the specified delivery date due to incomplete order information, large orders, transportation issues, natural disasters, or your absence, so please kindly understand in advance.
次男に購入しました。
病院勤務で、超多忙な次男の貴重な休暇、友人とのキャンプに間に合うよう購入しました。アカショウビンと二種類買いました。
とても気に入って🙆キャンプに来ていきました。ありがとうございました。
無二の着心地の良さ
昨年、沖縄旅行で海想を訪れTシャツを購入したところ、その着心地の良さにすっかり魅了されてしまいました。先日、大学時代からの友人(一人はイギリス在住、もう一人はこれからNZに移住)と会う機会があり、この肌触りをぜひ友人たちにも知って欲しいと思い、こちらのTシャツを購入しプレゼントしました。とても喜んでくれていました。またぜひ利用したいです。
色がちょっと地味になったけど
同じ柄で、黄緑のシャツを持っています。着心地が良いのとやんばるクイナ押し。
今中々沖縄にいけないんで、気分だけでも沖縄で、凄くいいですよ。
着心地良し
オーガニックコットンが気持ちいいです。デザインも自然環境をテーマにしていて、気に入っています。171cm/62kgで、Lサイズでジャストです。
デザインと肌触り最高
仕事や私的旅行で石垣島を含め沖縄には20回以上行きました。回を重ねる度によそには無い沖縄オリジナル商品を探し海想(店舗)に寄り、デザインが気に入り即購入しました。オーガニックコットンでできていたので肌触りが良く、Tシャツを購入する際は素材を重視するようになりました。オーガニックコットンは洗濯後縮むとの記載がありますので、1ランク大きめをお勧めします。